ONLINE ADR OPTION IS AVAILABLE
p 608.257.0945
f 608.257.5764
Legal Assistant:
Jean Veenendaal
Patrick Fiedler's diverse legal career includes service as the United States Attorney for the Western District of Wisconsin, Secretary of the Wisconsin Department of Corrections, 18 years as a Dane County Circuit Judge, and President of the State Bar of Wisconsin. As a lawyer, he has tried over 60 jury trials, and as a judge he has presided over more than 150 juries. Since returning to the private practice of law in late 2011, he has served as a mediator and arbitrator in over 500 different cases. Additionally, he has represented numerous individuals in both civil and criminal cases as a trial lawyer. Patrick also has served as an independent investigator for both public entities and private organizations. As a mediator, Patrick's practice is to: "Prepare, listen and then evaluate." When he is at trial it is to: "Focus on the issues from a jury's perspective. Then present your case accordingly."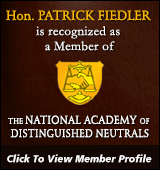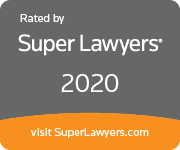 Practice Areas
Trial Lawyer in civil and criminal cases
Mediation and Arbitration in civil and family cases
Independent Investigator performing witness interviews; fact gathering, analysis and recommendations
Bar Admissions
Wisconsin
U.S. District Court Western District of Wisconsin
U.S. District Court Eastern District of Wisconsin
U.S. Court of Appeals for the Seventh Circuit
Education
Marquette University Law School, Milwaukee, Wisconsin, J.D.
University of Wisconsin-Milwaukee, Wisconsin, B.B.A.
Honors & Awards
Super Lawyer—Super Lawyers®/Madison Magazine, Alternative Dispute Resolution 2014-Present
The Best Lawyers in America®,  Arbitration and Mediation, 2014-Present
Judge of the Year, American Board of Trial Advocates –Wisconsin Chapter, 2007
Best Independent Arbitrator, Wisconsin Law Journal Reader Rankings, 2017
Best Independent Arbitrator- Honorable Mention, Wisconsin Law Journal Reader Rankings, 2018
Professional Associations & Memberships
Member, The National Academy of Distinguished Neutrals
Member and Past President, State Bar of Wisconsin
Fellow, Wisconsin Law Foundation
Member, Dane County Bar Association
Past Member, Wisconsin Trial Judges Association
American Arbitration Assocation Mediator and Arbitrator
Testimonials
"I recently mediated a civil case with Judge Fiedler involving many complex issues, multiple parties, and significant amounts at stake.  He did a terrific job at quickly figuring out where the parties were at, how to work with their expectations, and how to keep things moving forward.  I was impressed with his temperament, tenacity, and optimism.  I would definitely work with him again and refer him to my colleagues." Attorney Brent D. Nistler, Nistler Law Office
"The test of a great mediator is not settling easy cases. Anyone can do that. Truly great mediators settle the difficult cases. Pat Fiedler can settle the truly challenging cases." Attorney Robert J. Kasieta, Kasieta Law Group.
"When I need a mediator/arbitrator who I know will get the job done – in a practical, efficient and fair fashion — I call Judge Fiedler!  He is particularly effective in handling difficult and complex matters. I've been really happy with his involvement, and more importantly, so have my clients." – Attorney Marta T. Meyers, BoardmanClark
Classes/Seminars/Presentations
Wisconsin Judicial College–teaching Evidence and the Sentencing Hearing, Faculty (1999-2009); Associate Dean (2003-2009)
University of Wisconsin Law School, Instructor (1998-2001)
The New Daubert Standard for Experts in State Courts, presented to numerous local bar associations, law associations and classes (2011-2012)
Supreme Court of the United States (SCOTUS) 2012 and 2013 Terms –Federalist Society, Madison Chapter (October 2013)
Demonstration of a Civil Trial, University of Wisconsin Law School (April 2005)
Wisconsin's Truth in Sentencing Law, numerous seminars before judges and lawyers (1998-2007)